Trak Racer TR80 Mach 3 Overview
The TR80 has been designed with experience gained since Trak Racer started in 2008. The base structure is a 80 × 40mm high-end aluminium T-Slot extruded profile, anodized in black. Your choice of wheel mount will be supported by 80 × 40mm high-end aluminium T-Slot extruded profile, also anodized in black. Special anodized black 90-degree brackets connect the frame and laser cut carbon steel plates allow you to attach your peripherals. The TR80 is Direct Drive & Belt Drive Wheel Ready, Pre-drilled for all popular steering wheels, pedals and shifters on the market, comes with your option of 3 Stiffened Wheel Mounts for No-Flex Racing, has several add-on options including an Optional Integrated Monitor Stand (for 1-4 Monitors) and Button Box Mount. Designed and Engineered in Australia.
What's Included
BONUS Seat Mounting Brackets
BONUS Seat Sliding Rails and Adjustment Bar
BONUS Rubber Feet to protect floors and level your rig
BONUS Adjustable Gear Shift Mount

80mm x 40mm Black Anodized Aluminium Chassis

80mm x 40mm Black Anodized Aluminium Wheel Supports

80mm x 40mm Black Anodized Aluminium Shifter Support

Wheel Deck with Full Slide and Angle Adjustment

Direct Drive Wheel Mount with Full Slide and Angle Adjustment

All Mounting Screws, Brackets and Fixtures included

Assembly Tool Kit Included
Frame/Chassis Features
Constructed from high quality extruded aluminium in different profiles sizes including 6-Slot 80 x 40mm

580mm wide and 1,200mm long for firm stance when racing

Low ground clearance with hard wood rubber floor protectors

Finished in black anodized high quality aluminium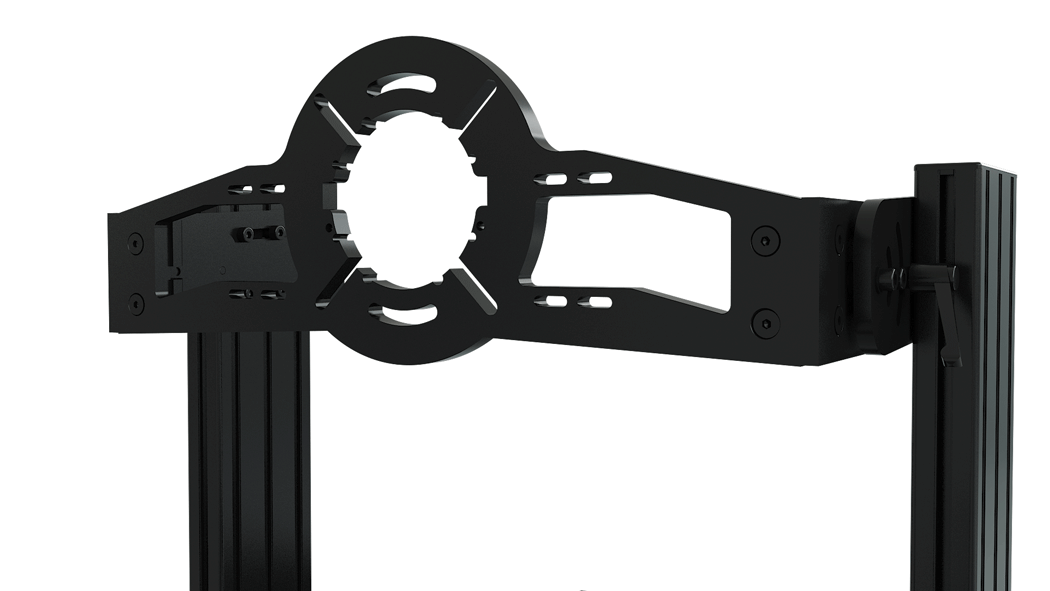 Thick STEEL Front-Mount Fully Adjustable Direct Fit Wheel Mount
The Front-Mount steering wheel bracket is fully adjustable (back/forth and up/down angle) and is made out of thick Laser Cut Carbon Steel with the equivalent strength of a 30mm Aluminium Plate. This bracket is compatible with the following wheels and motors:
SimExperience AccuForce V1, V2

Lenze MCS12 series

Mige 130 series

Kollmorgen AKM 52-53-54 (OSW and Leo Bodnar Simsteering systems)

SimuCube 2 Sport, Pro, Ultimate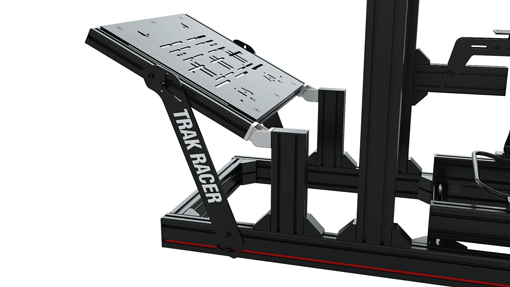 Adjustable Two-way Pedal Mount
The TR80 Pedal Mount can be mounted to just above or up high above the 80mm high aluminium chassis and pre-drilled for all major brand pedals. The clever design mounts outside the chassis for low-level height or and slides up a vertical profile to expand positions.
The pedal baseplate is made out of thick carbon steel and has pre-drilled holes for all major brand pedals (see list below) and slots for left/right adjustment with Heusinkveld pedals and others. The pedal plate can be angle adjusted with the locking lever and moved forwards and backwards. This bracket is compatible with the following pedals (and more):
Fanatec including CSL Elite Pedals, ClubSport V1/V2/V3
Thrustmaster including 2-pedals (all), T3PA, GT Ed, T3PGT, T3PA PRO add-on and T500
Heusinkveld including Ultimate, Sprint and Pro
Quaife Throttle Pedal and Brake
HPP PRX 3P
Logitech G Series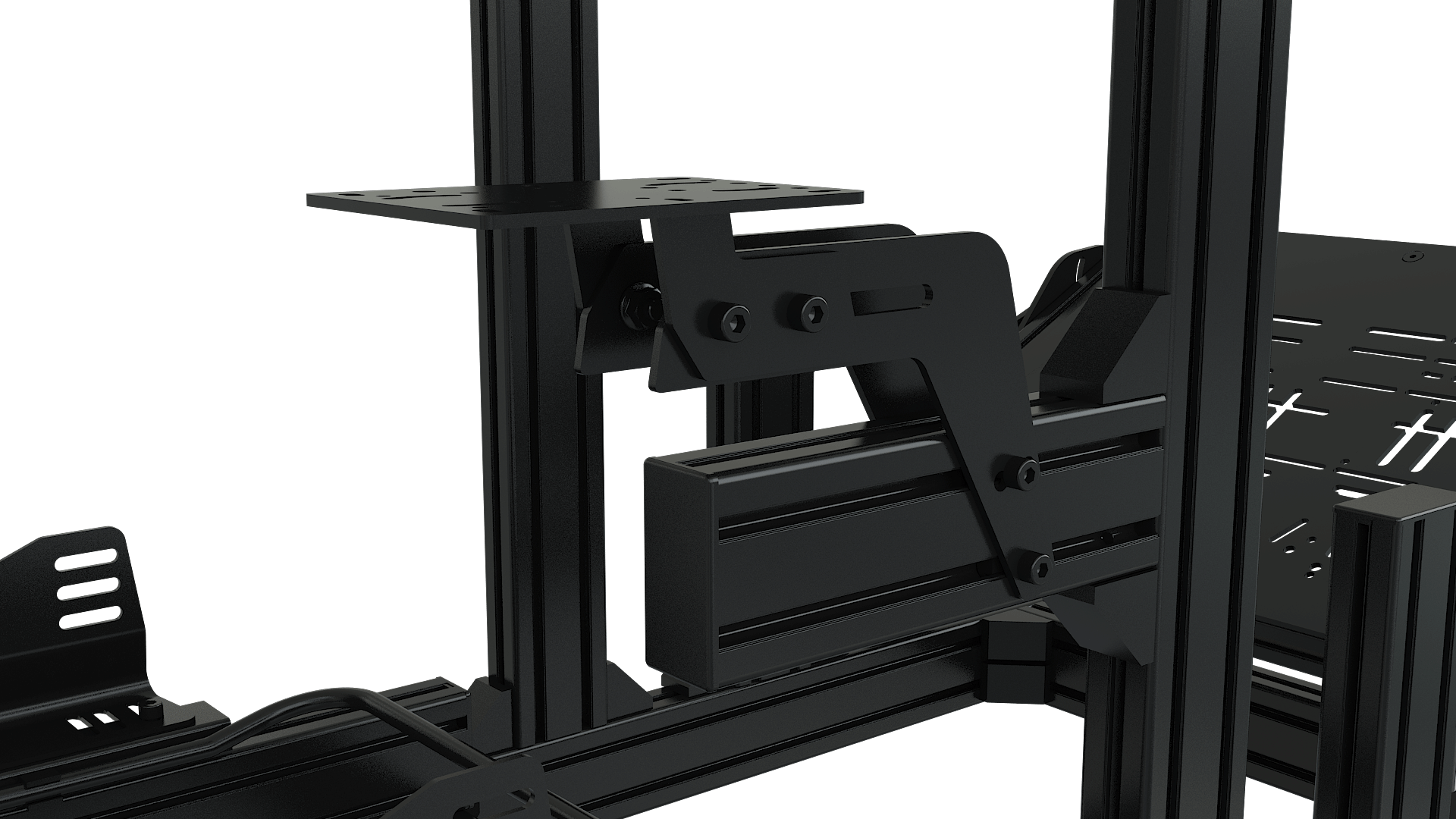 Fully Adjustable and Pre-Drilled Two-way Shifter Mount
This rigid gear shift mount sits firmly on the TR80's 80mm x 40mm premium aluminium profile using 2 slots to allow you to slide up and down to your perfect position and angle adjust. The included bracket has it's own sliding function for a more precise position as well as 3 angle adjustment. Shifter and handbrake bracket details
This bracket is compatible with the following shifters (and more) :
Fanatec including ClubSport Shifter, SQ
Thrustmaster including TH8A, RSTSS, TSS+
Quaife PSL Sequential
Heusinkveld SQ Shifter and Handbrake
Logitech Including G25, 27, 29, 920 Shifter

Others including DSD SQ Shifter, DSD Hydralulic Handbrake, RealGear RALLYpro Handbrake