SIM PEDALS – SERVICE BULLETIN #3
This page contains instructions on how to mitigate interference caused by some Direct Drive wheel systems.
Recently the use of industrial grade Direct Drive motors (either stepper or servo) has become more commonplace when building simulator systems. Examples of these systems are SimSteering system by Leo Bodnar, OSW system (Open Sim Wheel) or the AccuForce system by SimExperience.
In specific situations (not always) these systems may cause interference on the pedal signals of the Sim Pedals Pro & Ultimate.
A variance of zero to two (0-2) RAW output on any pedal, when the pedal is not pressed, is acceptable and within spec. This is considered to be a stable signal.
A variance larger than 2 (>2) RAW output on any pedal, when the pedal is not pressed, may be caused by interference from a Direct Drive system.
Any unintended jitter or spikes (for example the pedal output maxes out to 100% for a very short period of time) on the pedal output may be caused by interference from a Direct Drive system.
Please note that the numbers above apply to 12bit controllers with a range of 4096 per axis. For 16 bit controllers with a range of 65535 per axis, these numbers should be multiplied by 16.
Solution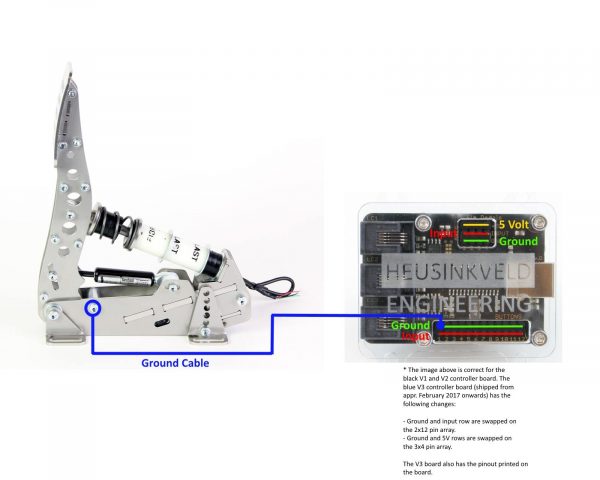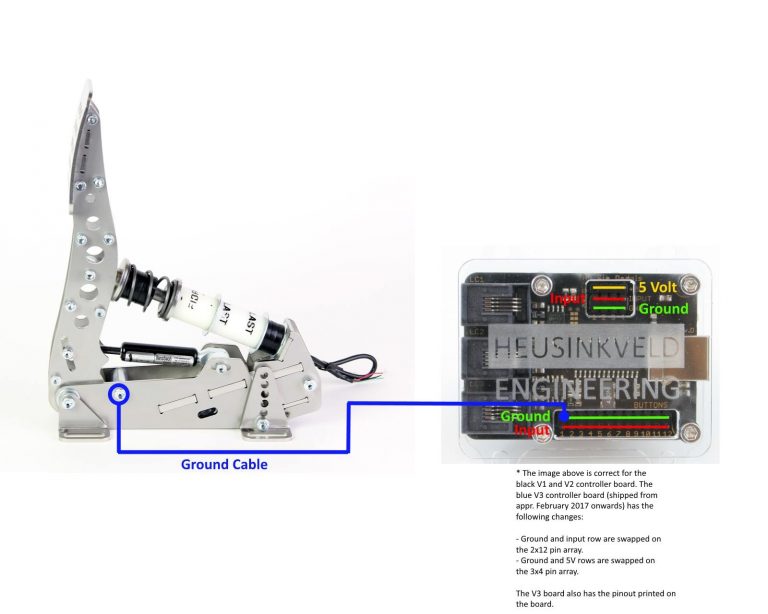 In order to mitigate the interference from Direct Drive systems, the solution is to connect a ground wire from our USB controller to the brake pedal of your Sim Pedals set.
The wire must be connected to one of the grounding pins on the controller (molex connector) and can for example be connected to the end-stop bolt of the brake pedal on the other side. For further details see the schematic.
Obtaining a ground wire
Ground wires are currently included with every Sim Pedals Shipment. If you are a Sim Pedals owner and do not have a ground wire yet, any owner can obtain a ready-to-fit ground wire free of charge (length appr. 20cm) by sending an email to support@gperformance.eu with the following information:
Email subject: [ Ground Wire ]
Type of Direct Drive wheel: [Fill in brand/controller type and motor]
Who was the vendor of your Direct Drive wheel?
Are you currently having interference issues: [ Yes/No]
What is the nature of the issues: [ … ]
Shipping address: [ … ]
Phone number: [ … ]
Ground cables are being sent out by regular mail (without tracking) and might take some time to arrive.