SIM PEDALS SPRINT – MOUNTING SCHEMATICS
This page contains schematics for mounting your Sim Pedals Sprint.
Sim Pedals Sprint pedal mounting schematic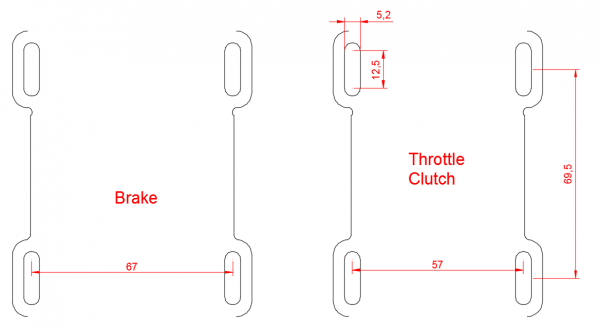 This schematic shows the mounting points for the feet of the individual pedals of the Sim Pedals Sprint. Please note that the brake pedal has a different mount compared to the throttle and clutch.
Sim Pedals Sprint suggested baseplate schematic
The Sim Pedals Sprint have different mounting points compared to our Pro (model year 2013) and Ultimate (model year 2013) models. This schematic shows a possible solution to create your own baseplate for all 3 models. Please note that the Heusinkveld Sim Pedals Sprint baseplate which will be sold in our webshop has a different layout.